I was chosen as one of the 16 finalists for the Burke Prize. The prize is an unrestricted award of $50,000 given to a professional artist under the age of forty-five working in glass, fiber, clay, metal, and/or wood.

Visiting Artist for the fall Semester at the University of Hawaii Manoa's glass department.
Concorso 35 invited artists 35 years old or younger to apply for their international competition. My moldless pate de verre piece " The Tower" was chosen for the exhibition.
Lecture: Reality is Only a Rorschach Inkblot, You Know
at the American Craft Council, Library Salon Series,

Jurors Choice Award, Irwin Borowsky Prize
each year the nomination based International Irwin Borowsky Prize in Glass Art honor's artists whose vision and skills are advancing contemporary glass art.
"Mutual Intelligibility", Bullseye Project, Portland
November 1st 2017- February 3rd 2018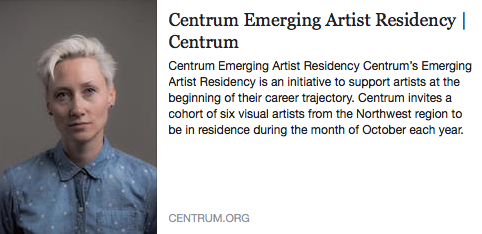 Centrum Emerging Artist Residency
Centrum's Emerging Artist Residency is an initiative to support artists at the beginning of their career trajectory. Centrum invites a cohort of six visual artists from the Northwest region to be in residence during the month of October each year.
Residency at the Vermont Studio Center
Each month, VSC welcomes over 50 artists and writers from across the country around the world to our historic campus in northern Vermont. I received a merit based Artist Award for a residency at the Vermont Studio center i January 2017.
THE HUNT IS SWEETER THAN THE KILL
July 5th- 22nd 2016
This project-based sculpture course will spark innovation through a series of fast-paced exercises. Experiments will involve hybridization of several processes—hot, kiln, and cold—and will fuel conceptual development of new approaches to the use of glass as an artistic material. Students will expand into unfamiliar territory and use a cumulative process of testing and refining that will lead to unexpected destinations.
Atoms + Bytes, Redefining Craft in the Digital Age
March 04, 2016 - June 26, 2016
Atoms + Bytes: Redefining Craft in the Digital Age showcases works by international and local makers situated at the intersection of the digital and the analogue worlds.
Process
April 25th- September 23rd 2015
We are proud to present the second edition of the International Glass Prize (IGP2), a triennial competition for arts, design and crafts.
The Glass Art Society (GAS) has announced the winners of its first-ever Technology Advancing Glass (TAG). The winner, Anna Mlasowsky, will receive an award of $5,000, The Award funds research on new materials, techniques, methods, and applications of technology in the creation of glass art.
Coburg Glass Prize 2014
April 13 - September 14, 2014
Winner of the Otto Waldrich Prize
The Kunstsammlungen of the Veste Coburg are organizing after 1977, 1985 and 2006 for the fourth time the Coburg Prize for Contemporary Glass – a European competition for modern glass. It is the most important event in the glass sector and shows contemporary works by artists who work with glass.
Artist in residence at The Corning Museum of Glass, 2013
The Artist-in-Residence programs at The Studio provide artists the opportunity to research and experiment with new techniques and subjects in their work.
Residency period April 2013
Follow the link to watch a PBS Art in Focus video interview of my residency experience.

Artist Grant from the Alexander Tutsek Foundation to support my work towards my Solo Show "Contemporary Traditions" at the Glass Museum Ebeltoft in Denmark
HM Munich 2011, Sonderschau Talente
16.- 22. March 2011
Exhibition during the Munich Craft Fair of new Talents, my work Hand-made and Heritage was featured here.
Stanislav Libenský Award 2011 & Glass.Design exhibition will be a testimony of energy, creativity and the promising future of the European glass-making field,
From Eye to Ear was featured.
Imperial Stables at Prague Castle
16. 9. – 31. 10. 2011
I will be spending the Spring Semester of 2019 at Purchase College in NY as their Windgate Visiting Artist, producing new work for an exhibition at the Universities Richard and Dolly Maass Gallery.
In August 2019 I will have a solo show at the Seattle Pop up Space of the Goethe Institut in the Chophouse Row building. Stay tuned for more information.
Visiting Artist in the Glass Department at RIT, March 2018
Behind The Glass Lecture, Corning Museum of Glass
February 8th 2018, visit the link below to see the recording of the full lecture on youtube
"Interpolations", Traver Gallery,Seattle
August 2nd-September 2nd 2017
with Matthew Szosz
Sculpture Space Residency 2018
Sculpture Space is unique in North America for its support of sculptors, both those who come to Utica, New York, as residency participants and those who continue after their residencies as working artists. The organization selects between 18 and 20 artists each year for two-month residencies.
Matched Makers: Northwest Artist Couples displays the work of 28 couples who have shared creative lives. The 56 artists, born between 1877 and 1983, include many of the most prominent and admired in regional history. They work in all media, usually independently but sometimes paired. The exhibition puts their art in the context of their lives, and shows that both complimentary and widely divergent styles are sustained by loving relationships.
Specialty Glass Residency with Corning Inc. and the Corning Museum of Glass

Summer 2016-February 2017
New Directions in Glass,
May- June edition,
written by Sarah Margolis-Pineo
featuring Matthew Szosz, Emily Nachison, Andy Paiko,and myself.
to read the article, please click below.
Electric Fields
2015 Juried Exhibition
November 5 - December 19, 2015
PUNCH enthusiastically presents our seventh Juried Exhibition. A total of 313 artists submitted 1,075 entries.
Winner of the Members Choice Award.
Page Hazlegrove Lecture in Glass Art
November 4th at 6:30pm, Room 10-250, MIT Campus
The Page Hazlegrove Lectureship in Glass Art was created in 1997 to honor the memory of Page, who brilliantly directed the Glass Lab from its beginning in 1988 until her untimely death in 1997. In her spirit, the Hazlegrove Lectureship was born, and since 1997 a number of outstanding artists working in glass have been invited to MIT
Artists and filmmakers Matt Glass and Jordan Wayne Long spend a day with me shooting this awesome video.
Please flow the link below to their website and to see the video.
Artist in Residency at the National Glass Center, University of Sunderland 2013
February 2013, two week residency and Artist Lecture on campus.
AA2A Artist Grant, The AA2A project (Artists Access to Art Colleges) is offering 80 placements, giving artists and designer makers the opportunity to undertake a period of research or realise a project using art college facilities..
European Glass Context 2012
Europe's Glass Biennial held in Denmark.
I am representing Germany in the New Talent category. Exhibition at Groenbechs Gaard, Bornholm Denmark
15.09.2012 - 18.11.2012
Wheaton Arts and Cultural Center Residency Program
Artists are encouraged to use their fellowships to develop and refine their work, while experimenting with both traditional and innovative glassmaking processes.
6 week Fellowship Fall 2011

Superposition
A juried show of glass and glass-related sculpture in Seattle WA in June, 2011 concurrent with the Glass Art Society Conference.
jurors are Jack Wax, Jocelyne Prince, Jin Hongo and Michael Scheiner
My project Hand-Made was featured..

in January and February I will have a solo show at CoCA in Seattle's Pioneer Square neighborhood featuring a new video and installation project titled "NOON".
In January 2018 Matthew Szosz and myself where invited for a short residency hosted jointly by BGSU and CCS. Thank you,
BAM Biennale, a juried exhibition which focuses on the work of established and emerging Northwest artists, craftspeople, and designers, with an emphasis on new work. 48 artists were selected to participate. I will be showing a new video and glass project.
Artist Trust Fellowship
Artist Trust (AT) Fellowships are merit-based awards recognizing artistic achievement, dedication to an artistic discipline, and potential for continued creative development. In 2017,
Visiting Artist at Alfred University, School of Art and Design.
February 7th and 8th 2017
Visiting Artist Lecture, Glass Department
March 3rd 2017
Strange Coupling, King Street Station, Seattle
Strange Coupling bridges the gap between the UW and the greater Seattle art community by pairing students with professional artists for a collaborative project. The work created by these pairings culminates in an event held off-campus at a unique location.
Whats the Story?
Group exhibition at Linda Hodges Gallery, Seattle,
December 1st- 29th 2016

BELLINGHAM NATIONAL 2015 ART EXHIBITION & AWARDS
May 31 – September 6, 2015, Juried by Scott Lawrimore,A juried exhibition featuring artworks in a variety of media, including video, photography, ceramics, mixed media, paintings and more. Representing artists from 16 states, including Washington, the exhibition includes 101 pieces from more than 60 artists
Seattle Dance Season. The Fall Kick-Off + BIG BANG! is one of Velocity's most high-energy weekends of dance and performance. Sunday's BIG BANG! has Velocity bursting at the seams with an explosive party of performance happenings – dance, theater, sound, new media, installations + MORE!
September 27th 2015
Emerge competition and exhibition 2014
Winner of the Silver Award
Bullseye's eighth biennial, juried kiln-glass exhibition for emerging artists in kilnformed glass
Emerge 2014 jurors: Kathleen Moles, Emily Nachison, and James Yood.
The Glass Factory Museum Artist in residence, Sweden
July-August 2013
Exhibition September 14th - October 6th 2013
the residency was supported by In collaboration with Kalmar Konstmuseum and Kultivator. The project is supported by IASPIS and Regionforbundet i Kalmar lan.
Kunsten.nu's review of my solos Exhibition at the Glassmuseum in Ebeltoft.
Contemporary Traditions, Solo Exhibition, 1st December 2012 – 10th March 2013
"SETO International Ceramic & Glass Arts Exchange Program" Jul. 10th - Aug.12th 2012
we invite 4 artists from field of ceramic and glass arts each year.
Our purpose is,cultural exchange through the making process and making a new possibility of artistic activity.
Toyama City Institute of Glass Art has undertaken a program called "Artist in Residence" since 2010, aiming to promote glass art and cultural activities in Toyama City, to invigorate the local communities, and to develop human resources.
6 week Residency October- December 2011
Followed by a solo show at the Institute.
Young and Loving
September 10th-October 23rd 2010
at S12 Gallery and Studio, in Bergen Norway.